A Fiberglass Batwing Fairing Kit for 2006-2018 Kawasaki Vulcan 900 Classic and VN900 LT Motorcycles
Note: There are two options for fairing configuration: (With and without stereo)
(1) Fairing Without Stereo - Ship next business day
(2) Fairing with Stereo (Rockford Fosgate Speakers and TBV22 Stereo) - builds to Order. Times vary by season
Features:
Sleek Aerodynamic design

Fits 2006-2018 Kawasaki VN900 LT

Fits 2006-2018 Kawasaki Vulcan 900 Classic - Requires OEM Parts# 11054-0787, 11054-0789, and 11054-0791 (not included)

Both Inner and Outer Pieces Included

Accommodates 2 – 6x9" Speakers

Includes brackets to mount to OEM parts

Heavy - Duty Construction

Protective Gelcoat

similar to compounds used on marine craft and aircraft

battles ultraviolet degradation

NOT a primer like the competitor uses

Paintable

FREE Windshields Included – 1 clear and 1 tinted

True Hand Laid Fiberglass (not chopper gun) – lighter and STRONGER than plastic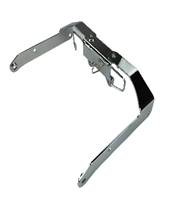 Your motorcycle must have installed OEM Parts# 11054-0787, 11054-0789, and 11054-0791 (not included)
NOTE: The brackets provided are designed to fit the widest possible range of bikes. Please note that, in some instances, you may be required to drill new bracket mounting holes in the fairing, use washers as shims or even purchase additional aftermarket mounting brackets.
NOTE: (1) Speakers are NOT included. (2) Please note that there are many options for audio and digital media receivers. As a result, we cannot provide a one- size-fits-all receiver cutout in our fairings. You may be required to cut a larger space or add an ABS surround to accommodate your desired audio or digital media receiver. (3) Fairings with uncut speaker holes are not available.
*Note: Multimedia plate add-ons are made to fit most multimedia stereos such as Rockford Fosgate PMX and Infinity PRV. We provide 2 different plates. Depending on the head unit you purchase some modifications may be required. The plate measurements are within the gallery of photos (see image 5).